Magdalena Barbara JABŁOŃSKA, Ph.D.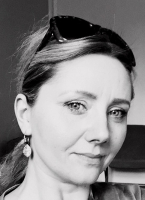 Silesian University of Technology, Katowice, Poland, EU
Dr. Magdalena Barbara Jabłońska is Associate Professor in Silesian University of Technology in Gliwice, Faculty Materials Engineering and Metallurgy in Katowice, Poland, EU.
Dr. Jabłońska holds a postdoctoral degree in Materials Science, specializing in Materials Engineering and plastic deformation of steels. Since 2000 she has been working as an assistant and lecturer. Her experience and expertise has grown through her contact with a number of projects, and cooperation with companies in Poland in area of materials engineering.
At the METAL'18 conference Dr. Jabłońska will present the lecture at the Session B - Metal Forming: "Processes of Static and Dynamic Deformation of Manganese Steels and their Influence on Changes in Properties and Structure".
Publications
She is the author of a variety of studies and technical analyses in the conventional steels, stainless steels, new steels for automotive industry, intermetallics as well as quality management and quality of education fields. She has also written monography "Structure and properties of a high-manganese austenitic steel strengthened in the result of mechanical twinning in processes of dynamic deformation" and also 150 scientific articles in the field of materials engineering and metallurgy, published in Poland and abroad.
Research interests
The scientific interests of Magdalena focus on the issues of modern and conventional steels for automotive, new Cu-Sn alloys named "singing alloys", intermetallics, Al-Li alloys as well as on processes of thermal treatment, thermo-mechanical treatment, rolling, drawing and on research techniques characterizing the properties and structure of materials, with special regard to the techniques of differential thermal analysis (DTA) of materials, thermogravimetrical analysis (TG), dilatometry, microstructure analysis using STEM, TEM techniques.
Activities
Currently, she is a member of scientific committee of International conference "CEEC-TAC", a member of organizing committee of the International conference "Forming". She is the Scientific Reviewer in several entities (USA, India, Germany). She is inter alia a constant reviewer of the Archives of Civil and Mechanical Engineering (impact factor – 2.216) and reviewer of the Journal of Thermal Analysis and Calorimetry (impact factor 1.953), Archives of Metallurgy and Materials (impact factor 0.571). She is also a member of the Council of an Association "Southern Railway Cluster" Katowice which supports development in railway transport and innovation transfer, also towards cooperation with European railway clusters (European Railway Clusters Initiative member). A member of Association for Iron&Steel Technology, Polish Materials Science Society.
She did several scientific internships and practices at Max Planck Institute for Eisenforschung, Germany, Bergakademie Freiberg, Germany, VSB - Technical University in Ostrava, Faculty of Metallurgy and Materials Engineering, Czech Republic.
She is the laureate of the Prime Minister award of Poland for a highly-rated achievements being the basis for awarding the postdoctoral degree. She is a valued employee and a favorite lecturer.